Looking for an evening of family fun? Check out our Family Fun Pack suggestions!
This FFP was created by Miss Charity.
Movies
All About Garbage and Recycling JF-DVDAll Garbage
The Best of Mighty Machines JF-DVD Mighty Best
Bob the Builder: Getting the Job Done JF-DVD Bob Getting
Charlie Trash Truck JF-DVD 363.72 
Mighty Machines: Machines on the Job JF-DVD Mighty Machines
Books
C is for Construction: Big Trucks and Diggers from A to Z  E Caterpillar
Forklifts by Marv Alinas ENF 621.8 Alinas
I Drive a Dump Truck by Sarah Bridges ENF 629.225 Bridges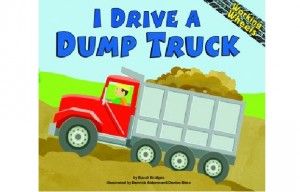 I Drive a Semitruck by Sarah Bridges ENF 629.225 Bridges
The Dump Truck by Craig Robert Carey E Carey
My Truck is Stuck by Kevin Lewis E Lewis
Tonka Power Reading: Construction Action by Victoria Hickle E Hickle
Crafts
Basic Shapes Dump Truck Craft
Recipe
Easy
Dump Truck Snack
Other
Ask you children to list every kind of truck they possibly can. Ask questions to see how much they know about the different kinds of trucks.