Looking for an evening of family fun? Check out our Family Fun Pack suggestions!
This FFP was created by Miss Charity.
Movies
Disney Princess: Enchanted Tea Party JF-DVD Sing Disney
Enchanted JF-DVD Enchanted
Cinderella JF-DVD Cinderella
Books
 The Very Fairy Princess: Here Comes the Flower Girl by Julie Andrews E Andrews
Sleeping Beauty: A Retelling of Grimm's Fairy Tale by Eric Blair E Blair
I Wish I Were–a Princess by Ivan Bulloch E Bulloch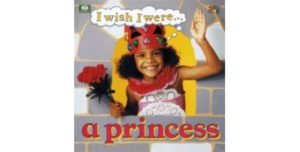 Princess Peepers by Pam Calvert E Calvert
Princess: A Glittering Guide for Young Ladies by Stella Gurney JNF 305.23 Templar
Crafts
Princess Silhouettes Craft
Pin the Crown on the Frog (and other great Princess Party ideas)
Recipes
Decorate Princess Crown Cookies
Fairy Princess Recipes
Other
Play Princess Dress Up! Add lots of sparkly accessories!