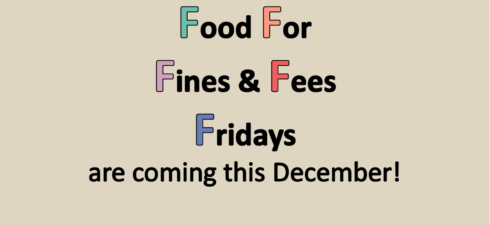 Food For Fines & Fees Fridays are coming!
How to participate: Every Friday in December, bring food items from the list* to the library to add to our Project Hope Donation Box. For every one (1) eligible item you donate, you will receive 5% off of your existing library fines and fees (up to %50). For every five […]
Online Services News
ABCmouse is available for FREE inside the Stevens County Library! The award-winning ABCmouse curriculum is designed to help young children (ages 2–7+) build a strong foundation for future academic success. ABCmouse is 100% educational, with 5,000+ learning activities across all major subject areas—reading, math, science, social studies, art, and music. […]
Most Recent News
We will be closed Thursday through Sunday for Thanksgiving. Don't forget to stop by today, Tuesday, or Wednesday to stock up on reading material and DVDs to entertain your guests! We wish all our library friends and family a safe and happy holiday!

We will be closed Saturday, November 5 for the Reading Run-a-Round 5K Run/Walk fundraiser. Please join us at noon at the library!