39 Clues: The Sword Thief by Peter Lerangis
This review was submitted by Hallie Wettstein, Summer Reading Participant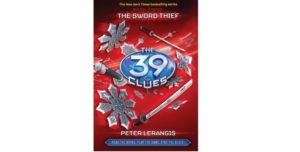 Find this book: JF 39 Clues
Tell us about the book:
The two Cahill siblings, Dan and Amy, go to Japan in search of the next clue, but find out to trust no one.
What is your favorite part?
My favorite part is when Nellie (their au pair) saved them from a yazuka attack.
Give a recommendation:
If you like action books, you'll really like this book.
Rate this book: