Marked by P.C. and Kristin Cast
This review was submitted by Hallie Wettstein, Summer Reading Participant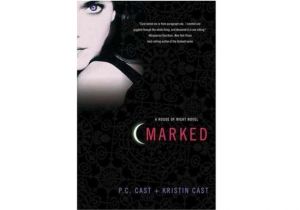 Find this book: JF Cast

Tell us about the book:
Marked is about a girl named Zoey, who was marked by a vampyre at school. When she gets NO support from her mom and step-dad she goes to find her grandma. She passes and and awakens in the House of Night, a vampyre school. She quickly makes 4 friends: Stevie Rae, Shawnee, Erin, and Damien. On her 2nd day she is asked to attend a Dark Daughters ritual. When she goes, she learns that Aphrodite, the leader of the Dark Daughters, has a special power. She can see the future, but doesn't always tell people. Before the second ritual, Zoey finds that it is a special ritual, and it goes bad…
What is your favorite part?
My favorite part is the end of the book. 🙂
Give a recommendation:
If you like vampyre books you will like this book!
Rate this book: