Babymouse: Queen of the World by Jennifer Holm
This review was submitted by Abby Heger, Summer Reading Participant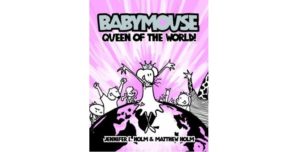 Find this book: JGN Holm
Tell us about the book:
Babymouse doesn't get invited to Felica Furpaw's sleepover. When Babymouse finds out, she begs to Felica to let her come.
What is your favorite part?
When Babymouse is at the party, everyone else is talking about boys. Babymouse goes to her other friend's house and realizes she doesn't need to be with popular girls to be the Queen of the World, but she already is because she has a lot of friends.
Give a recommendation:
If you like animals that can talk, you will love this book.
Rate this book: