This review was submitted by Bryan G., Summer Reading Participant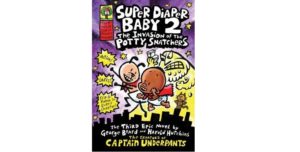 Find the book: JGN Pilkey
Tell us about the book:
They get powers, a baby and a dog fight, and an evil guy turns himself into water.
What is your favorite part?
When all the adults buy diapers and wear them.
Give a recommendation:
If you like Captain Underpants books, you should get Super Diaper Baby!
Rate this book: