This review was submitted by Allen Shelton, Summer Reading Participant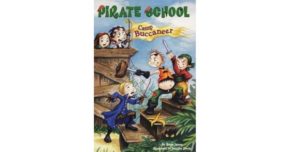 Find this book: JF James
Tell us about the book:
The pirate kids compete at camp to see who is the most piratey. They have to watch out for cheaters and a white skeleton monkey.
What is your favorite part?
Rotton Tooth put the white skeleton monkey on the cheaters' ship.
Give a recommendation:
I recommend this book to anyone who likes pirates.
Rate this book: