Stick Up for Yourself: Every Kid's Guide to Personal Power and Positive Self-esteem by Gershen Kaufman
This review was submitted by Bryan Erives, Summer Reading Participant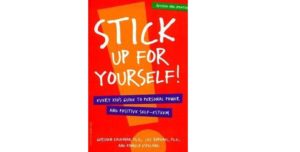 Find this book: JNF 158 Kaufman

Tell us about the book:
The book shows you how to stick up for yourself, how to fix daily problems, be responsible, and many interesting things.
What is your favorite part?
It's interesting to learn the different feelings we experience and what they mean.
Give a recommendation:
I recommend this book to anyone who likes to learn how to deal with daily feelings.
Rate this book: