What Was the March on Washington? by Kathleen Krull
This review was submitted by Brooke Topliss, Summer Reading Participant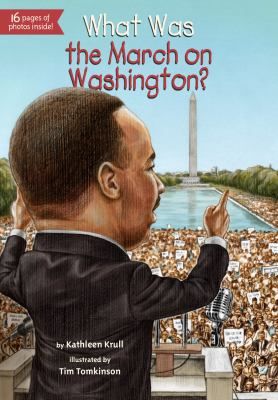 Find this book: JNF 323.1196 Krull
Tell us about the book:
On page 50, it says "I am a man / We demand voting rights now / We demand decent housing now / Gradually isn't fast enough / We demand jobs now! / Freedom in '63." The colored people said it but they [the white people] won't let them.
What is your favorite part?
My favorite part was that Rosa Parks did the right thing by standing up for what she believed in and took a white man's seat. But, other people didn't believe [it was the right thing]. That was my favorite part. It is on page 17.
Give a recommendation:
I recommend this book to anyone who likes the black and white fight [the fight for equal rights]!
Rate this book: